LONG ISLAND FISHING CHARTER BOAT
PLEASE TEXT OR CALL 631-974-4933
SCROLL DOWN TO BOTTOM OF PAGE TO VIEW DIRECTIONS, LOCATION AND PARKING OPTIONS IN PORT JEFFERSON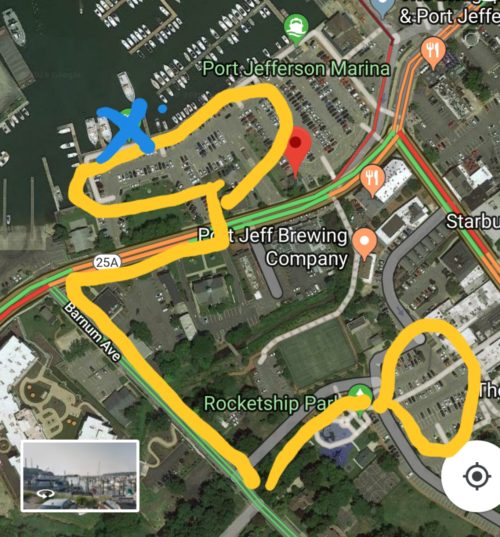 LONG ISLAND FISHING CHARTER BOAT, "CAPTAIN FISH PORT JEFFERSON", location is indicated by the BLUE "X"on map.
Enter this address in GOOGLE MAPS:
118 W Broadway, Port Jefferson, NY 11777 for directions to boat.
Parking lot for CAPT FISH is directly across from SAGHAR RESTAURANT. Turn into parking lot directly across from restaurant and make left after booth. CAPT FISH is 2/3 way down the parking lot. Just park and come to waters edge to see CAPT FISH of PORT JEFFERSON.
My boat is blue X in pic
Oval next to blue X is metered parking at pay stations, $2-$3/Hr non BROOKHAVEN TOWN resident, Free Parking for Brookhaven resident with stickers purchased online only, you can not pay at booth when you arrive.
Smaller oval next to Rocketship Park (lower right corner), is metered parking. Parking is free Monday-Wednesday. Thursday-Sunday, 12noon-11pm, 50 cents/Hr.